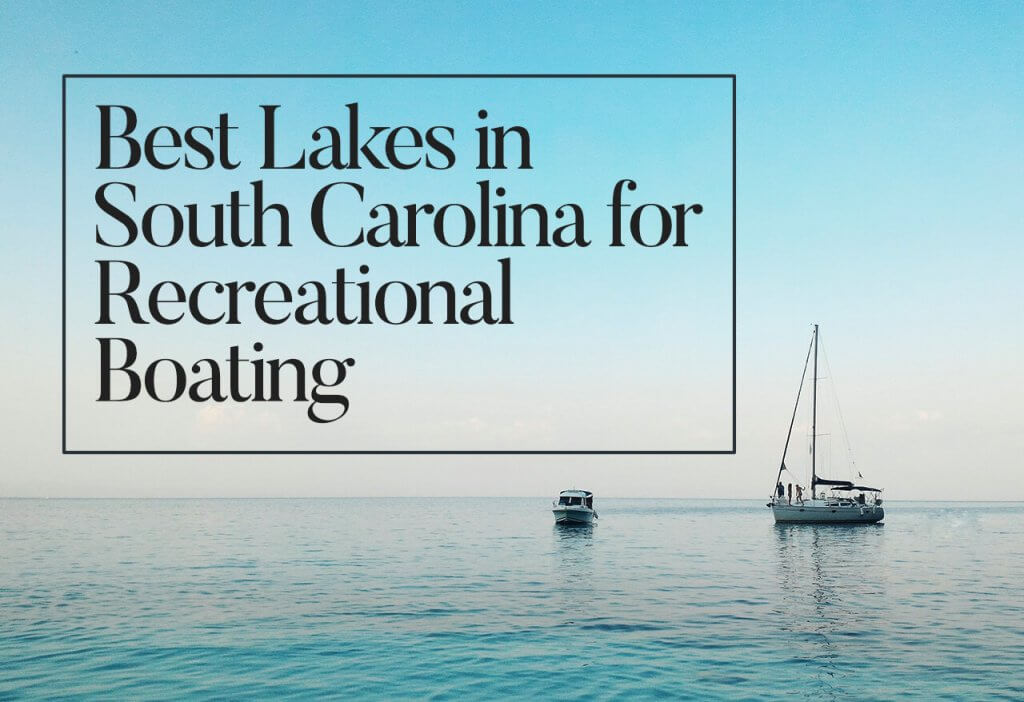 History, culture, exceptional cuisine, and natural beauty are just a few of the things people love about living in South Carolina. In between the majestic mountains and beautiful coastline, the state also has some of the best recreational lakes in the Southeast covering over 630 square miles. When you're looking for a place for a weekend boating trip, here are five of the state's best lakes:
1. Lake Marion
The state's largest, Lake Marion is in the scenic South Carolina Lowcountry. Over 110,000 acres, it spans five counties near the towns of Santee, Charleston, and Moncks Corner. Marion features vast expanses of water with cypress trees lending it a swamp-like look.
Lake Marion is famous for its abundance of big fish. Some of the wildlife you will spot includes alligators, egrets, wild turkeys, and deer. Santee State Park is nearby with campgrounds, cabins, and piers stretching out over the lake. You will also find restaurants and other accommodations near this beautiful lake.
2. Lake Moultrie
South Carolina's third largest lake is also in the Lowcountry. Lake Moultrie is fed by Lake Marion via a canal near Old Santee Canal State Park. The outdoor adventure continues here with 60,400 acres of fishing, swimming, and boating. Lake Moultrie is popular with the avid fisherman; it's known for world record setting catches of catfish and black crappie.
Lake Moultrie has plenty of marinas and boat ramps. Restaurants, campgrounds, and other lodging opportunities are nearby. It is also adjacent to Francis Marion National Forest.
3. Lake Jocassee
A backdrop of the Blue Ridge Mountains and waterfalls pouring into it makes Lake Jocassee one of the state's most scenic lakes. Fed by four different rivers, Lake Jocassee sits in a valley. Nestled in Devil's Fork State Park, it features 7,500 acres of water with 75 miles of shoreline. Water from the Appalachian Mountains feeds Lake Joccosse meaning refreshing, clear water all year long.
Visitors to Lake Jocassee can rest assured that the area will always have pristine views; the 50,000 acres of land surrounding the lake is protected by the state. Fishing, scuba diving, and swimming are popular here, and it has also been the setting of two movies: Deliverance and the Hunger Games.
4. Lake Murray
Lake Murray is a reservoir fed by the Saluda River flowing from the Upstate near the North Carolina border. The lake has 50,000 acres of water and over 500 miles of shoreline in the counties near Columbia and features the Dreher Island State Recreation Area on its west side. Its location makes Lake Murray a popular recreation area for Columbia residents interested in fishing, boating, and hiking. There is also a designated swimming area and picnic facilities.
Go for a day to Lake Murray and park for a nominal fee. Spend a night or longer in accommodations near the lake. You can choose from camping, cottages, cabins, and villas.
5. Lake Hartwell
Shared with neighboring Georgia, Lake Hartwell is a 56,000-acre lake with great fishing and recreation opportunities, fed by the Savannah, Seneca, and Tugaloo Rivers. Visitors and nearby residents visit the lake for swimming, water skiing, boating, and wake-boarding, but fishing and camping are the most popular activities. Lake Harwell is brimming with several kinds of bass, crappie, and catfish. Nine campgrounds offer over 500 campsites including unique single-room cabins.
In the Palmetto state, there's no shortage of great lakes to enjoy, whether your preferred activity is fishing or cruising along in your boat. Before you have fun in the sun, make sure that you have SC boat insurance to protect you, your boat, and your loved ones. Call Upside Insurance Greenville to request your free South Carolina insurance quote!