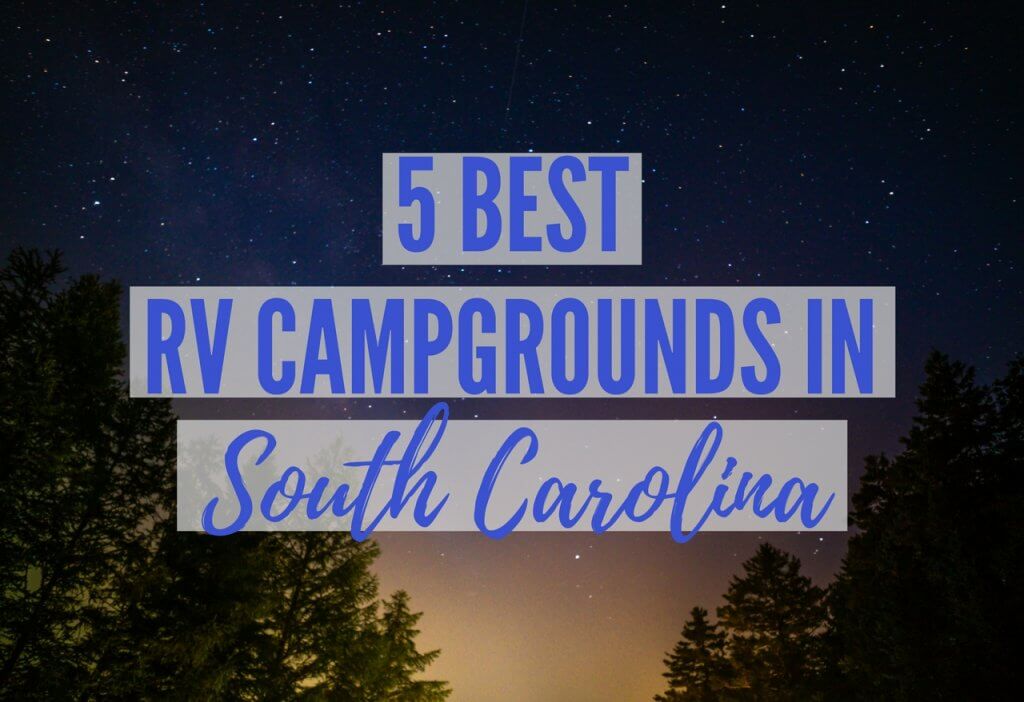 Jump to:
Hunting Island State Park | Croft State Park | Myrtle Beach State Park | Devils Fork State Park | Dreher Island State Park | RV Insurance
South Carolina offers RV enthusiasts endless camping options at dozens of parks scattered across the state. From lakes to beaches to beautiful gorges, there's no shortage of scenery to discover in the state's almost 80,000 acres of protected lands. Whether you're driving a high-end motorhome or towing a restored vintage Airstream trailer, there are lots of places to park your RV and enjoy the best of the Palmetto State. Here are a few of the best RV campgrounds, parks, and destinations in South Carolina:
1. Hunting Island State Park
Located off the southern coast of South Carolina between Charleston and Savannah, Hunting Island is one of the most popular beaches in SC. Accessible via the Sea Island Parkway, the park offers visitors 5,000 acres and five miles of beachfront to explore. Within the park's grounds, you can hike or bike, boat, swim, or go fishing off the 1120-foot pier. During your stay, be sure to check out the lighthouse, which boasts stunning views of the island and beyond. Also, keep an eye out for the endangered loggerhead turtles who make the island their breeding ground during the summer.
Hunting Island State Park Camping
Hunting Island has 171 RV sites with water and electrical hook-ups. Of these, 102 also have 20/30/50-amp electrical service. Sites are all paved or on packed dirt, and accommodate recreational vehicles up to 40 feet in length. The park requires a 2-night minimum stay, with rates between $18-$45/night for RV sites. You can make reservations in advance through the South Carolina Parks System or day-of by contacting the park directly.
Camp amenities include the following:
Up to 40' RV sites
Electric and Water Hookups
Two Dumping Stations
Restrooms
Hot Showers
Dressing Rooms
Sheltered Picnic Area
Small Convenience Store
Pets Allowed
2. Croft State Park
A few miles from downtown Spartanburg and about an hour from Greenville, Croft State Park was once a military training ground and POW camp during World War II. Now its 7,000 acres have been transformed into a beautiful state park with wooded biking, hiking, and horse trails. The park's Lake Tom Moor Craig also offers visitors fishing and boating opportunities. While the park boasts picnic areas and playgrounds, it also features equestrian facilities, skeet shooting, and canoe/kayak rentals.
Croft State Park Camping
Within the park, there are 50 campsites for RV and tent camping, all of which include water and electric hook-ups. Sites 1-25 are located closer to the main gate and rent for $14-$21/night, while sites 26-50 have waterfront views, 20/30/50-amp service, and cost $18-$24/night. Reserve your RV site online using the state park reservation system (minimum 2-nights required).
Croft campground amenities include:
Up to 40' RV sites
Electric (50 amp) and Water Hookups
Restrooms
Hot Showers
One Dumping Station
Sheltered Picnic Area
Grills
Playground
Less than five miles from emergency services
Pets Allowed
3. Myrtle Beach State Park
Located on one of the best-known South Carolina beaches, yet tucked away from the high-traffic areas, Myrtle Beach State Park offers beautiful ocean views, nature trails, surf fishing, and shoreline access just 300 yards from the campground. Known as the first South Carolina state park, Myrtle Beach opened in 1936 after completion by the Civilian Conservation Corps. Decades later, this park is still one of the gems of the state park system, attracting thousands of annual visitors to its white sandy shores and wooded campgrounds.
Myrtle Beach State Park Camping
Myrtle Beach has 366 campsites and six CCC-era cabins available for rent. Sixty-six of the sites have full water, electric, and sewage hook-ups and many sites accommodate RVs and motorhomes between 30-40 feet. Standard sites with just water and electric hook-ups rent for $21-42/night, while the full hook-up sites rent for $31-52/night. The whole campground is equipped with Wi-Fi and convenient to the dump station, laundry facilities, and showers.
Campground Amenities:
Up to 40' RV Sites
Water, Electric, and Sewer Hookups
Restrooms
Hot Showers
Laundry Facilities
Wi-Fi
Dumping Station
Playground
Picnic Shelters
Swimming Area with Lifeguard
4. Devils Fork State Park
At the edge of the Sumter National Forest, close to the North Carolina state line, the Devils Fork State Park is a 622-acre park overlooking the 9000-acre Lake Jocassee. Mountain spring water travels through steep gorges to replenish the pristine lake, its crystal-clear waters offering the perfect place for fishing, kayaking, canoeing, boating, and even scuba diving. Those feeling adventurous can hop on a boat to view surrounding waterfalls or access a boat-in only remote campsite. For those who prefer staying on dry land, there are also walking trails within the park. If visiting from mid-March to early April, look for the rare Oconee Bellflower that flourishes in this lush landscape.
Devils Fork State Park Camping
In addition to a boat-in only campground, the park also has 20 lakeside villas, 25 tent-only sites, and 59 campsites for mixed RV/tent use. All the RV-friendly campsites are paved with electric and water hook-ups and accommodate vehicles up to 40 feet. The entire campground has complimentary Wi-Fi. Sites cost between $23-$42/night.
Camp amenities include:
Up to 40' RV sites
Electric and Water Hookups
Restrooms
Hot Showers
Wifi
Dump Station
Pets Allowed
Laundry Facilities
Picnic Shelter
Playground
5. Dreher Island State Park
Dreher Island State Park spans 348 acres over three islands inside Lake Murray near Columbia, SC. Home to major national fishing tournaments, including the Big Bass Tour, the lake carries several species of bass as well as catfish, bream, crappie and yellow perch. Not just a fisherman's paradise, the Park also has opportunities for birding, hiking, swimming, scuba diving, geocaching and more.
Dreher Island State Park Camping
Campers may enjoy access to 12 miles of lake shoreline, with 97 paved sites for RVs and tents. Some sites accommodate RVs up to 45-feet long, and all come with water and electric hook-ups and convenience to showers and restrooms. These RV/motorhome sites rent for $23-$30/night and may be reserved in advance.
Camp Amenities:
Up to 45' RV sites
Water and Electric Hookups
Dumping Station
Pets Allowed
Restrooms
Showers
Sheltered Picnic
Playground
RV & Motorhome Insurance in South Carolina
Before you hit the road for your next camping trip, make sure you have the RV insurance required by South Carolina. At a minimum, you must have liability and uninsured motorist coverage for your motorhome. To ensure your home on wheels is adequately protected, consider adding collision, comprehensive, and other coverages to your policy. For a free quote on motorhome insurance, call the best insurance agency in Greenville today!