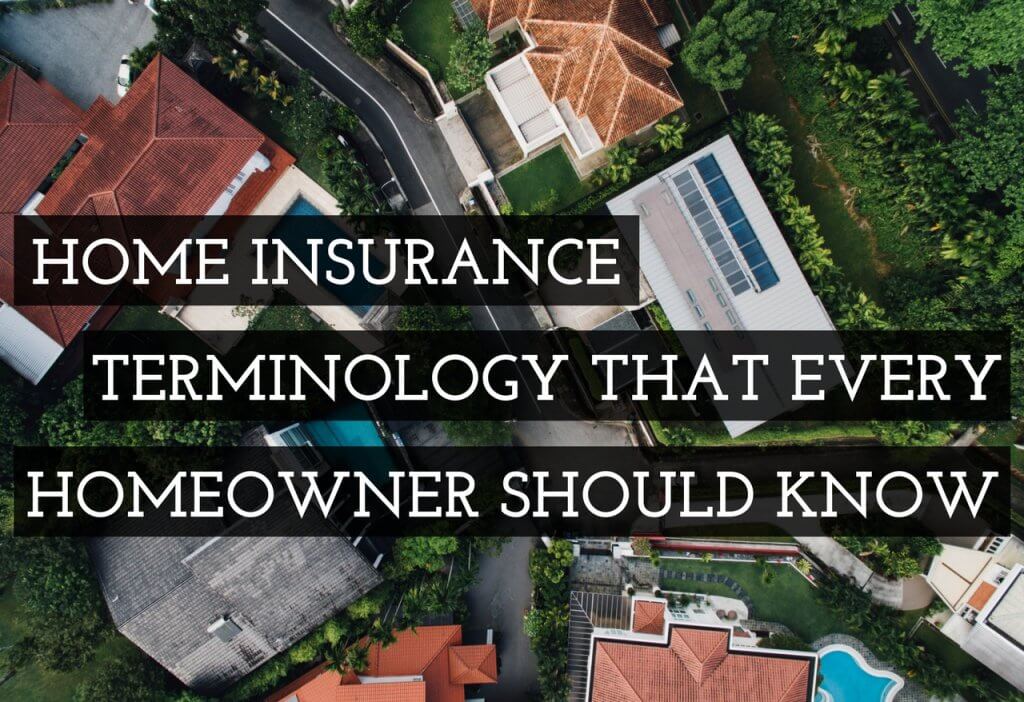 Whether you are a new homeowner in need of homeowners' insurance or you are considering switching companies, it's important to know your options. Even more important is understanding the terminology common to home insurance policies. Understanding the legal jargon will help with everything from reviewing policy selections with your agent to filing a claim in the event of a catastrophe. Here are some of the home insurance terms every homeowner should know.
Actual Cash Value
Actual cash value, or market value, represents the value of the item at the time of the loss factoring in depreciation. It does not represent what it would cost to replace the item, also known as the replacement cost. In home insurance, the distinction between actual cash value and replacement cost applies to the type of coverage you choose for your personal property. For example, let's assume your TV is stolen. You originally paid $1000 for the TV, but it's a few years old now, so it is only worth $300 at the time of theft. If you have an actual cash value policy, you'll only get reimbursed $300, or the current market value of the TV.
Additional Living Expense Coverage
If your policy includes living expense coverage, the insurance company will cover costs for you to live elsewhere while your home is being repaired or rebuilt. This coverage, also known as loss of use coverage, typically includes hotel, meals, and living expenses up to a pre-defined limit.
Adjuster
An adjuster is an individual hired by the insurance company to determine the value of your property or belongings or the extent of your liability when settling a claim.
Claim
When you have a covered loss and ask the insurance company for reimbursement, you are making a claim. For example, most policies cover damage caused by hail or wind. If your roof suffers hail damage, you may file a claim for the insurer to replace your roof.
Coverage
Coverage refers to the types and amounts of insurance you have on your property. For example, you might have dwelling coverage plus personal property and personal liability coverage.
Covered Loss
A covered loss is one for which your homeowner's policy will pay compensation. Most homeowners' insurance covers losses from fire, theft, hail, wind, and more.
Depreciation
Depreciation is the decrease in value of your personal property over time. For example, you might purchase a refrigerator for $2000, but two years later, it's only worth $1200. The change in value represents depreciation. It's important to understand depreciation in the context of an actual cash value policy.
Dwelling Coverage
Dwelling coverage refers to the coverage on your home's structure. If a tornado blows off your roof or a fire breaks out, your dwelling coverage will pay to make the necessary repairs.
Exclusion
An exclusion describes losses not covered under your homeowner's policy. For example, losses from flooding and earthquakes are commonly excluded from the typical homeowner's policy.
Endorsement
An endorsement is an amendment or addition that changes the original policy coverage. This term is interchangeable with a "rider."
Homeowner's Insurance
Homeowner's insurance is the entire package of insurance coverage for your home and belongings. It may include dwelling coverage, personal property coverage, personal liability insurance, and more.
Insured
The "insured" is the party who pays insurance premiums in exchange for coverage from losses.
Insurer
The "insurer," or insurance company, is the party who promises to pay or reimburse the insured for covered losses.
Liability Insurance
Common on many types of insurance policies, personal liability coverage protects you if someone is injured while on your property. For example, if your tree trimmer falls out of the tree, breaks his leg, and sues, your liability insurance would pay for legal fees and the settlement.
Loss of Use Coverage
See "Additional Living Expense Coverage" above.
Market Value
Market value is synonymous with actual cash value; see the definition above.
Peril
A peril describes the type of loss covered by your homeowners' policy, such as windstorm, fire, or hail damage.
Personal Property
Personal property refers to all property you own other than real estate (i.e., land and buildings). For example, personal property includes your clothing, electronics, paintings, kitchen appliances, furniture, and anything else within the walls of your home. You'll want to purchase personal property coverage to insure items not physically attached to your residence.
Premium
A premium is the amount you pay in exchange for coverage by the insurance company. Most homeowners pay their insurance premium on a monthly, semi-annual, or annual basis.
Real Property
Real property describes property affixed to the land, such as your house, outbuildings, or the land itself.
Renters' Insurance
Renters' insurance is for individuals who rent their home. It provides coverage on the renter's personal property but not the actual building.
Replacement Value
Replacement value is what it would cost you to replace something that was lost based on today's value rather than what you originally paid for it. Insurance companies typically pay either actual cash value or market value for personal property claims.
Rider
A rider is an addition to a policy, much like an endorsement. Homeowners frequently add riders for high-value items like jewelry, art, and electronics.
Risk
Risk describes your chance of loss from a peril.
Underwriter
An underwriter is an insurance representative who reviews applications for insurance and inspects policies to ensure accuracy and pricing.
While we hope this list helps you understand some of the basic homeowners' insurance terms, our team is happy to answer any questions you might have about your policy and coverage. If you're shopping for new coverage, be sure to request a free quote here! At Upside Insurance in Greenville, we work with the top insurers in South Carolina to bring you the best coverage for your home.