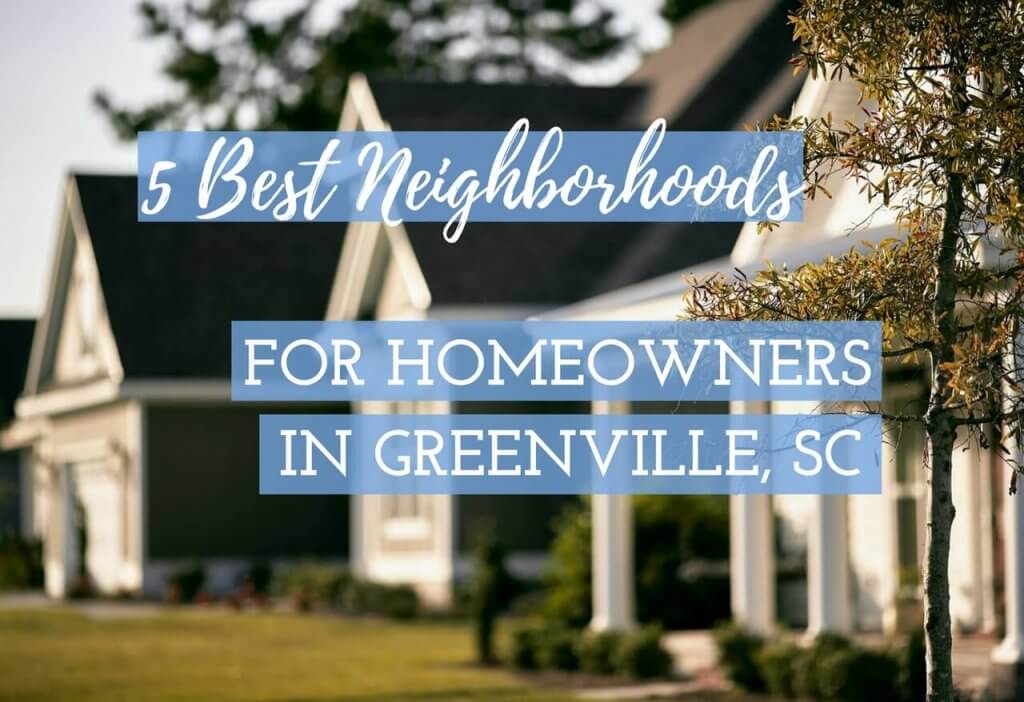 Big city amenities without the hassle of more populated urban areas make Greenville, SC an attractive place to call home. The city is situated in the foothills of the beautiful Blue Ridge mountains and is less than a five-hour drive from South Carolina beaches.
The former textile town has welcomed many new manufacturing jobs with companies like General Electric and Michelin locating to the area. Bustling Downtown Greenville is the scene of businesses, boutiques, restaurants, and bars. Add in a low cost of living and a mild climate, and it's easy to see why it has become one of the nation's top places to live.
As a homeowner in Greenville, you have many fantastic neighborhoods to choose from, each with their own particular charm. Start exploring life in the Greater Greenville area with these 5 best neighborhoods.
Half-Mile Lake
If you like community activities and old-fashioned neighborhood holiday events, Half-Mile Lake is a good choice for you. With average prices ranging from the $100's, Half-Mile Lake is one of Greenville's most sought-after neighborhoods. Amenities include a commons area, clubhouse, playground, pool, and, of course, access to Half-Mile Lake. Nearby Herdklotz Park has multi-purpose athletic fields and shelters. This community is close to Paris Mountain State Park, Downtown Greenville, and the Cherrydale shopping area.
Gower Estates
Gower Estates has over 500 homes that appeal to families of all sizes. Home styles include traditional, brick ranch, and remodeled cottage-style, and prices range between the $200s and $400s. It is walkable, family-friendly, and close to downtown with easy access to I-85, Woodruff Road, and Haywood Mall. Although the streets are quiet with large trees offering the feel of an older neighborhood, Grower Estate homes are known for their convenience to grocery stores, home improvement stores, and other shopping.
Creekwood
Creekwood is a newer neighborhood in Simpsonville at Jonesville Road and Woodruff Road. The approximately 250 homes were built in the mid-2000s and feature brick or stone exterior accents. Prices range from the low to high $200,000s. The Creekwood subdivision is known for its great amenities like a cabana, walking trails, playground, sports court, swimming pool with lazy river, kiddie pool, and clubhouse. It is also near some of the area's best schools. Utilities are underground. Great shopping and dining are close by on Woodruff Road.
Augusta Road
Located less than a mile from downtown, Augusta Road subdivision is an older neighborhood comprised of both historic and new homes. Many of the older homes have been renovated. Prices range from the $180s to 1 million. This neighborhood has a friendly atmosphere and strong sense of community. Summer festivities and holiday events are held throughout the year sponsored by community members and local businesses. This community is convenient to everything, including excellent schools.
River Walk
If you like to be a little away from the hustle and bustle but still enjoy being close enough to great restaurants and shopping, River Walk is the perfect community for you. This established community is also one of the area's most picturesque. Residents enjoy the great landscaping and surrounding rolling hills. A walking path runs for four miles along the Glider Creek river. The more than 400 homes are brick, two-story traditional style with a price range from the $300s to $500s.
No matter which neighborhood you choose to call home, make sure your house is protected with Greenville home insurance. To discuss coverage options, call one of our agents today!